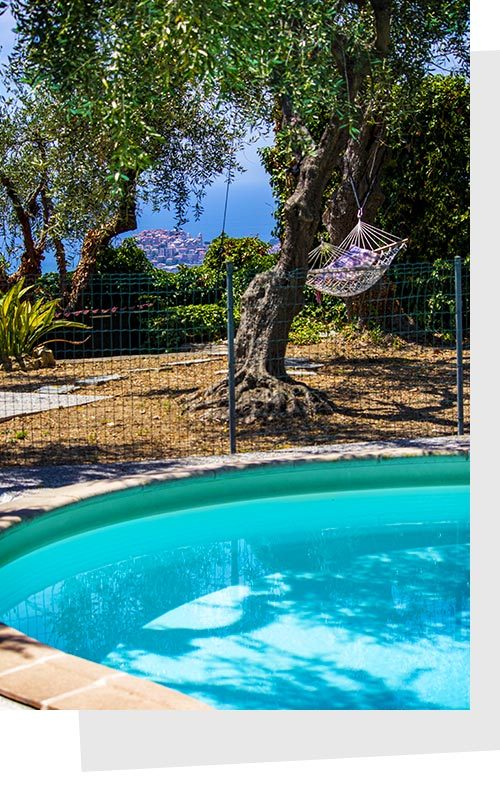 HOLIDAYS APARTMENTS IMPERIA DIANO MARINA

A HOLIDAY
BETWEEN OLIVE TREES
AND THE SEA
Our holiday apartments with garden, equipped kitchen, terraces and private outdoor area, have a wonderful panoramic position on the hill facing the sea of ​​Imperia and Diano Marina. Next to the apartments there is a swimming pool among the olive groves of our farm; on the terrace below is our farmhouse restaurant which offers typical Ligurian cuisine prepared with organic products from our garden.
We are certain to be able to guarantee our guests exclusive and comfortable holiday apartments, in a quiet environment surrounded by greenery.
HOLIDAYS APARTMENTS IMPERIA DIANO MARINA
Absence of architectural barriers: even if placed on different levels, both apartments are on the ground floor.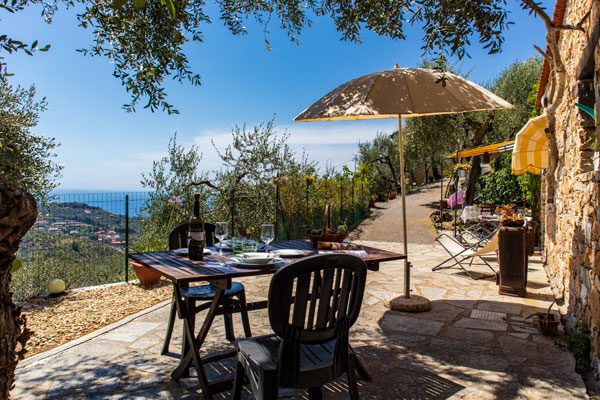 PLAN AGRICULTURAL COMPANY LE NAVI IN CIELO

1 Entrance Restaurant 2 Parking Restaurant 3 Restaurant 4 Belvedere 5 Swimming pool's apartments 6 Vegetable garden 7 Entrance apartments 8 Parking Le Rocce 9 Terraces Le Rocce 10 Parking Le Pietre 11 Dehor Le Pietre 12 Olive grove
1 Entrance Restaurant
2 Parking Restaurant
3 Restaurant
4 Belvedere
5 Swimming pool's apartments
6 Vegetable garden
7 Entrance apartments
8 Parking Le Rocce
9 Terraces Le Rocce
10 Parking Le Pietre
11 Dehor Le Pietre
12 Olive grove

A WONDERFUL HOLIDAY
All lovely: hospitality and courtesy, beautiful view and super location!
Great sea view, well-kept garden with lots of olives and private area, excellent swimming pool, homemade Ligurian specialties in the restaurant.
A wonderful stay in a splendid agriturismo (farmhouse). The dinners were the flagship, recommended in all seasons.

AN EXCELLENT RATING
The view from our lookout; on days with clear skies, Corsica and Tuscany can be clearly seen.
The view from our lookout; on days with clear skies, Corsica and Tuscany can be clearly seen.

DIRECTIONS
Highway A10, exit Imperia EST
After the junction, at the roundabout, go left towards the city center (via Garessio) until the Carceri' s roundabout; take the 2° exit and proceed up the Cascine hill (via Agnesi – via Berio – Villa Grock – Via Fanny Roncati Carli) until you reach the little church of San Luca which is on a U-shaped hairpin bend; after about 300 meters turn left at the junction for Via Molino dei Giusi (where you'll find our signal panel), therefore always keep right until number 22.
Journey time: 10 minutes.

GOOGLE MAPS

GPS
WARNING: there are two routes to reach Le Navi In Cielo and satellite maps, unfortunately, often signal the most tortuous road. To get there more easily we suggest you to follow this simple procedure:
Set GPS to:
Villa Grock, Via Roncati Carli
lat. 43.904182 long. 8.047248
From Villa Grock, set up:
Via Molino dei Giusi, 22
lat. 43.904182 long. 8.047248