HOLIDAYS IN IMPERIA

HOLIDAYS APARTMENTS
WITH A FAMILY STORY
Hi, I'm Riccarda, owner with my husband Luigi of the Le Navi in ​​Cielo farmhouse; I want to tell you the story of our holiday apartments, located inside our farm where we cultivates olive groves on ancient strips of land and produces seasonal vegetables.
Our farm is located on the first hill behind Imperia Oneglia, just over 3 km from the city center. Imperia is located between Sanremo in the west and Alassio in the east. About twenty kilometers separate us from these two jewels of the Riviera dei Fiori. But Imperia itself is a small jewel that, in reality, offers the visitor two cities, two completely different towns (even in history), but both are beautiful: Oneglia in the east and Porto Maurizio in the west.
On our farm we have renovated an old agricultural building by creating two holiday apartments called Le Rocce, upstairs, and Le Pietre, on the lower floor, so that we can offer our guests a taste of what used to be my summer holidays. In fact, since I was 3 I always spent my summer holidays here in the country accompanied by my grandmother Angiolina and my mother.

The living conditions were not very easy as we had no water, no light, no gas, no road, so that every morning my mother went down to the city to go to work. So I stayed with my grandmother to gather wild herbs, to clean the bands from weeds, to doze in the cool of the olive trees and to prepare delicacies. In the afternoon, her mother would walk back up the old country paths, bringing us food and drinking water reserves. The most beautiful hours were those of the evening when, by candlelight, we sat under a tree and my mother, with her soft voice, began to sing the romantic songs of her time. And it was not uncommon for someone to join our song from some other hut in the valley.
So today we have created 2 apartments that reflect the style of the era, furnished with restored family furniture, since a modern style would not be consonant with the experience we want to convey.
We have decided to prepare apartments with fully equipped kitchens and independent access rather than rooms, to allow guests the maximum freedom in schedules and movement and to feel, even on vacation, at home.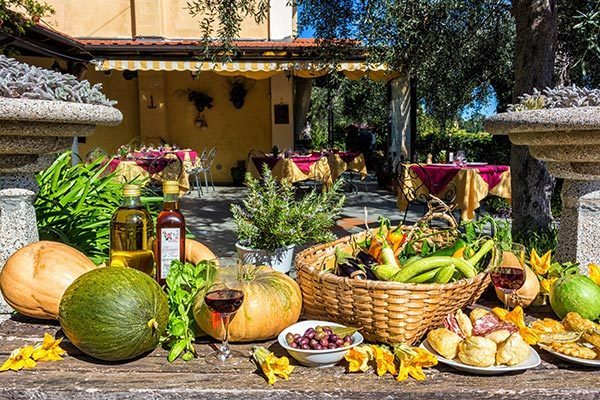 DIRECTIONS
Highway A10, exit Imperia EST
After the junction, at the roundabout, go left towards the city center (via Garessio) until the Carceri' s roundabout; take the 2° exit and proceed up the Cascine hill (via Agnesi – via Berio – Villa Grock – Via Fanny Roncati Carli) until you reach the little church of San Luca which is on a U-shaped hairpin bend; after about 300 meters turn left at the junction for Via Molino dei Giusi (where you'll find our signal panel), therefore always keep right until number 22.
Journey time: 10 minutes.

GOOGLE MAPS

GPS
WARNING: there are two routes to reach Le Navi In Cielo and satellite maps, unfortunately, often signal the most tortuous road. To get there more easily we suggest you to follow this simple procedure:
Set GPS to:
Villa Grock, Via Roncati Carli
lat. 43.893665
long. 8.045099
From Villa Grock, set:
Via Molino dei Giusi, 22
lat. 43.904405
long. 8.047393