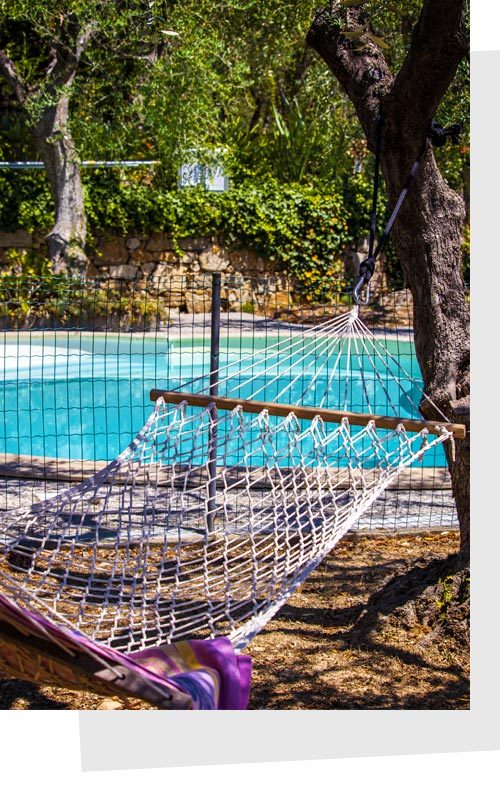 INTO THE BLUE,
AMONG THE GREEN
AND THE BLUE
Our holidays apartments Le Rocce and Le Pietre, just 3 km from the center of Imperia and 15 minutes from Diano Marina, offer an additional relaxing corner in our swimming pool among the olive trees. Deckchairs and tables are available for our guests to fully enjoy the summer, even without necessarily going to the beach. Children can play in the fenced garden, while adults can read a book serenely by swinging quietly in the hammock among the trees. Looking to the west you can see the suggestive promontory of Porto Maurizio, while to the east the view can be lost on the sea.
HOLIDAY HOUSE WITH POOL
The pool is available from May to September, depending on weather conditions, from 9am to 7pm.
HOLIDAY IN IMPERIA DIANO MARINA

HOLIDAY APARTMENTS
WITH POOL AND GARDEN
Deck chairs and poolside tables.
Chairs and table in the garden.
Hammock under the olive trees.
Access via steps to sitting.
Maximum depth 160 cm.
Shower and foot wash.
Wi-Fi area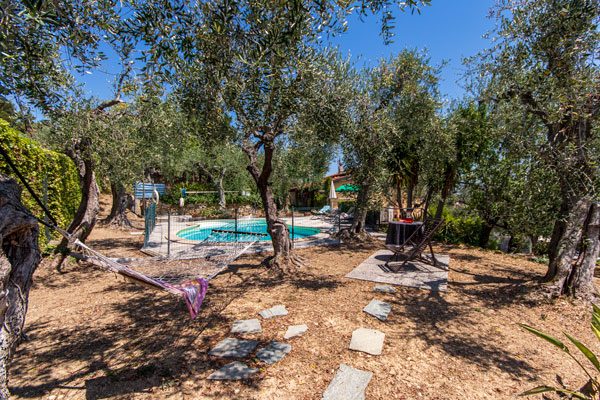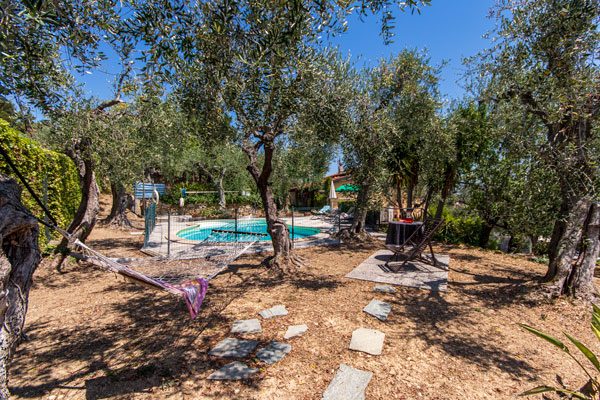 APARTMENTS WITH POOL
IMPERIA DIANO MARINA

DIRECTIONS
Highway A10, exit Imperia EST
After the junction, at the roundabout, go left towards the city center (via Garessio) until the Carceri' s roundabout; take the 2° exit and proceed up the Cascine hill (via Agnesi – via Berio – Villa Grock – Via Fanny Roncati Carli) until you reach the little church of San Luca which is on a U-shaped hairpin bend; after about 300 meters turn left at the junction for Via Molino dei Giusi (where you'll find our signal panel), therefore always keep right until number 22.
Journey time: 10 minutes.

GOOGLE MAPS

GPS
WARNING: there are two routes to reach Le Navi In Cielo and satellite maps, unfortunately, often signal the most tortuous road. To get there more easily we suggest you to follow this simple procedure:
Set GPS to:
Villa Grock, Via Roncati Carli
lat. 43.893665
long. 8.045099
From Villa Grock, set:
Via Molino dei Giusi, 22
lat. 43.904405
long. 8.047393